Exhibition of site-specific drawing and performance by Marcela Rapallo, based on dialogues with Colombian colleagues and friends Raúl Trujillo, Powerpaola, Enrique Lozano and Alejandro Tamayo. The opening included a performance by YECA: Andrea Fasani, Claudia Toro, Santiago Peresón and Marcela Rapallo. The curatorship was in charge of Tatiana Sandoval. It took place in April 2014 at P.I.C.A. Espacio de Experimentación de Fundación Lebensohn (Montes de Oca 239, Barracas, CABA).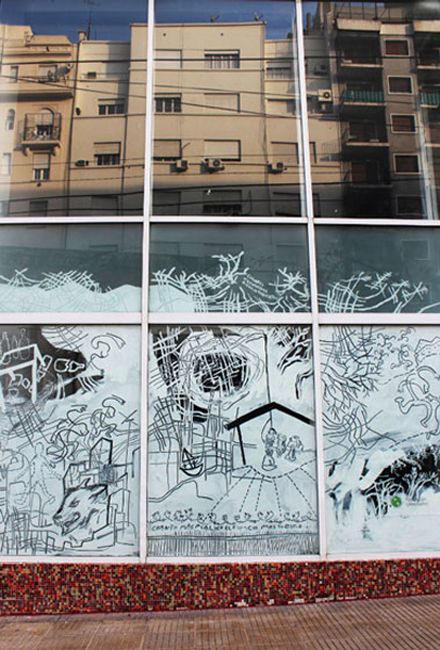 The work "Hacer oficio, patear la calle" included the realization of a drawing with lime on a window connected to the street, chosen to address the representation of public space as well as the encounter with those who pass through it.
In my work I seek to explore the representation of the way we think images, the ephemeral nature of visual memory and its constant transformation. To conceive it as a weaving of memories, perceptions and sensations, where there are no isolated worlds but experiences that are recorded and added up. Drawing works as a means to talk about the act of looking, about what we choose to look at of all that is in sight, about how the collective imaginary and the personal baggage are articulated in the choice that implies that act of looking.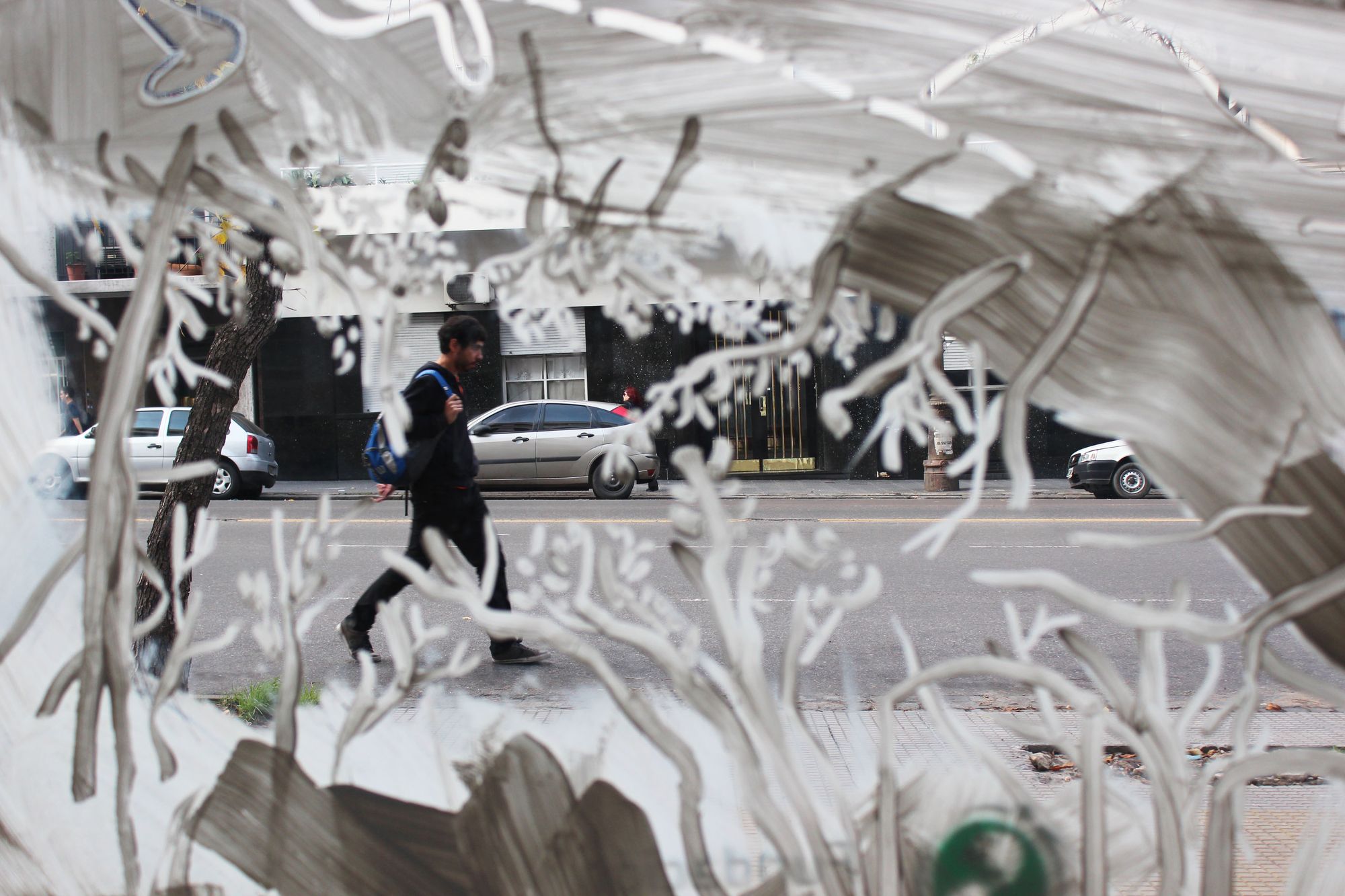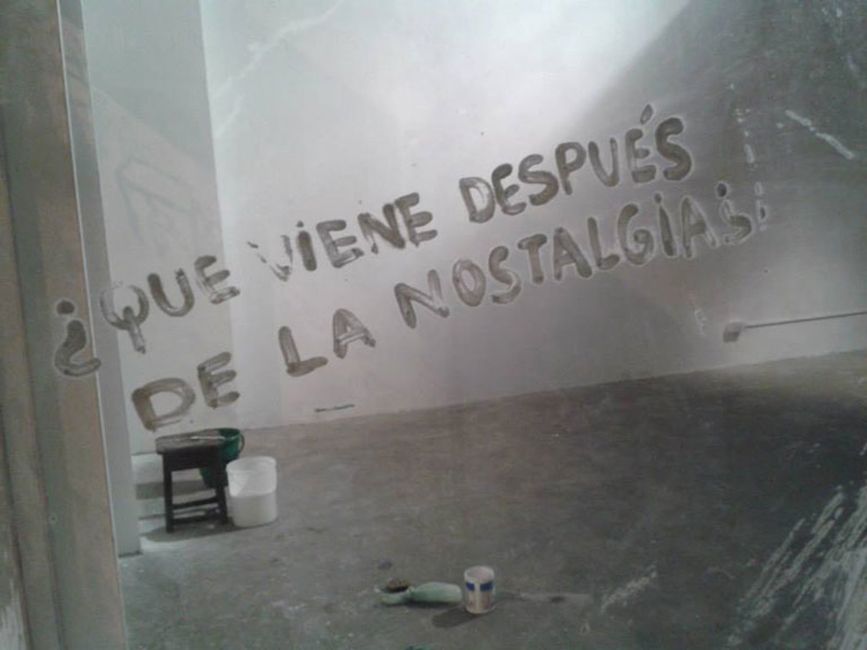 In the context of my city, Buenos Aires, I try to investigate in representative figurations and also to approach the perception of nature from a gaze that is its own. I work on the coexistence of images that belong to different spheres: mental, urban, natural, intimate, public, neighborhood, downtown, television, advertising, imaginary, fantasy, etc. images.
For this work I took as a starting point an exchange of views between the cities of Argentina and Colombia in general, and Buenos Aires, Medellin and Cali in particular. I was motivated by the strong cross-cultural exchange produced in my city by Colombian immigration, and in particular by the joint work I have been doing since 2007 in projects with Colombian artists. I invited four of these people: Powerpaola, Enrique Lozano, Raúl Trujillo and Alejandro Tamayo, to work in a format of collaborative drawing and writing, virtual and physical, investigating this encounter between the looks and the collective imaginary of these cities. I used the material resulting from this experience as a starting point for the realization of the drawings in the support of the installation.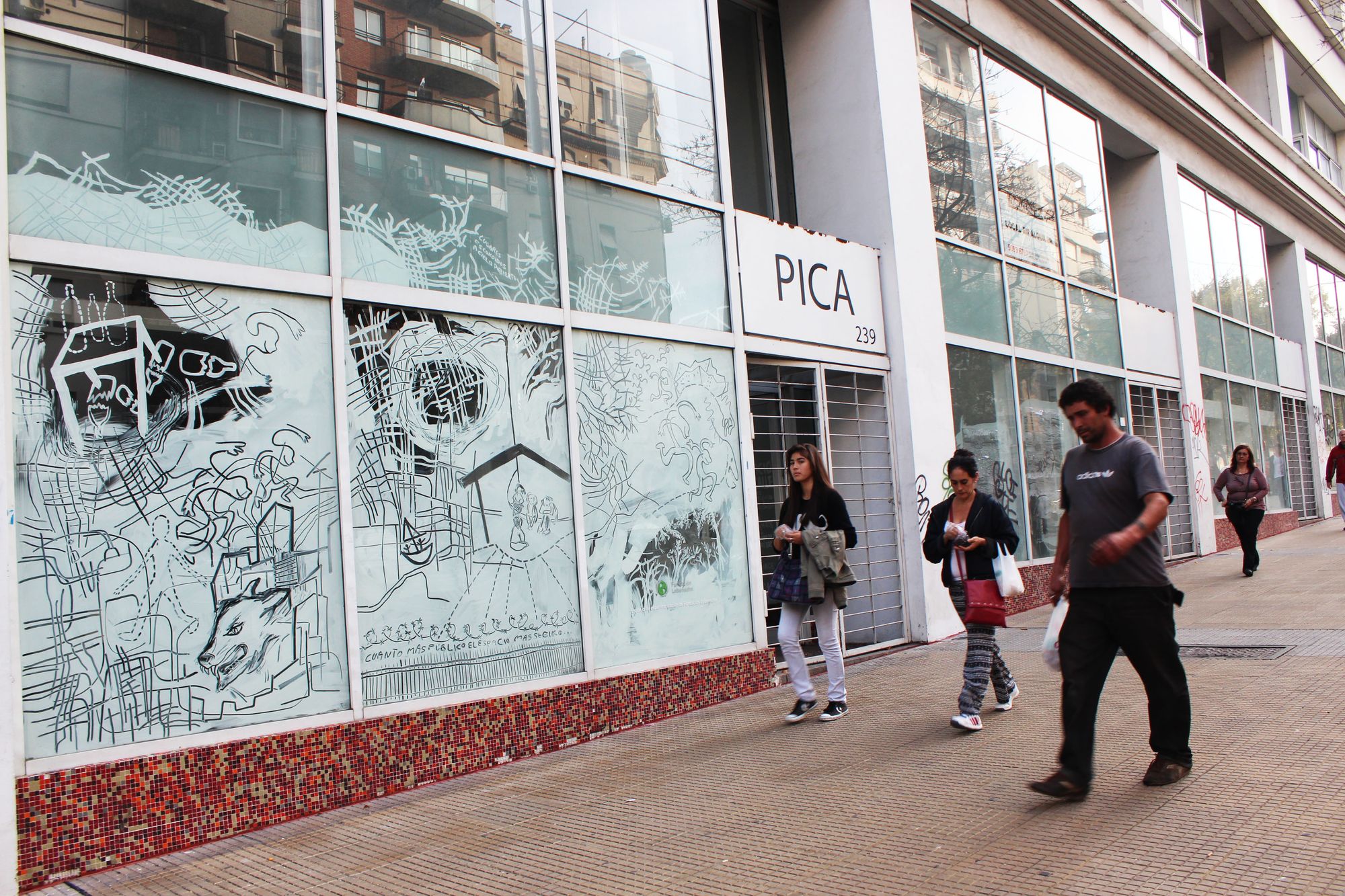 In this work, as in my work processes in general, individual, group and collective works and projects within the framework of art education are articulated in a reciprocal way. The next collaboration that was part of this work, was the performance in which I drew live through projections that intervene the drawing of the glass, in an audiovisual dialogue with the group YECA, which I formed with Andrea Fasani, Claudia Toro, and Santiago Peresón.