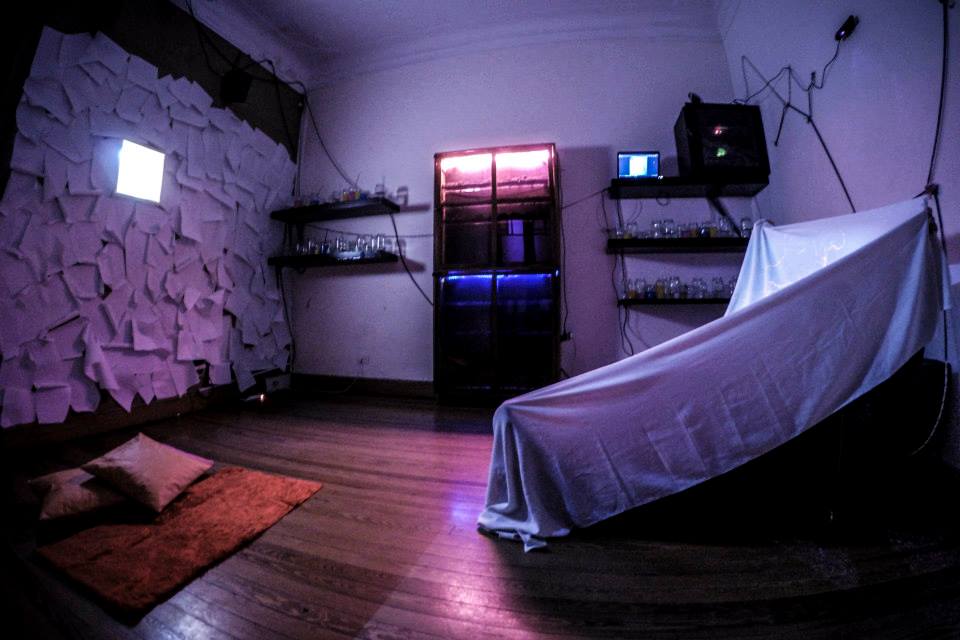 "The animal that is all animals" (El animal que es todos los animales) is an installation that represents the experience of a dream. Through the setting of the space, between realistic and dreamlike, and the animation of digital drawings in real time of the images of the dream, it seeks to approach the experience of the dream told.
The installation invites to lie down on a bed and spread a blanket where the image of a dream is projected. In front of the space to lie down, a graphic indicates how to spread the blanket to activate the projection. The surrounding space is set with scenographic elements that combine a room with visual elements present in the dream.
I created the work based on a dream in which a traveler sent me images of the places he visited. The center of the story was a large drawing on a mountain. The drawing had been made by him together with the inhabitants of the place, it was the drawing of the animal that is all animals.
The night I had the dream, I was sleeping in my studio, on a sofa bed, covering myself with a white blanket. When I begin to dream, I find myself in the same place and I spread the blanket, holding it by the four ends, with my hands and legs. In this way the blanket was extended and functioned as a screen, the images that I received from the traveler came out of me and were projected on the blanket.
The drawings that represent the animal that is all animals are animated in real time, so that through constant transformation, they can approach the representation of that animal drawn in the dream. The image is many images at once, impossible to remember, impossible to represent.
Since the day of the dream, I tried to draw the image of the animal that is all animals with different media, motivated by the particularity that the images were projected on the real space where I was sleeping, but also by the desire to investigate this irreproducible image.
A discovery after this dream was to know the history of the alebrijes in Mexican culture, animals that are at the same time different animals and that inhabit dreams. I learned this story from telling the dream to Myri, my Mexican friend who told me: Amistad, you have dreamed of an alebrije. This awakened even more my interest in recognizing an experience present in the collective imagination, even the story tells that the craftsman who began to represent alebrijes did it after a dream in which they appeared and cured him of an illness.
In this work I am particularly interested in delving into the memory of dreams, considering it an interstitial part of our visual memory, which coexists with the reality of wakefulness and complements its meaning.
The work participated in the Let it VJ #13 festival at Club Cultural Matienzo in 2015.
Let it VJ Curatorial Team: Lisandro Peralta, Daniel Bouix, Agustín Jais, Dani Romero
Music: Anahí Arias